This blog post was written by Higher Employment Services Technical Assistance and is included as an archived post on the Switchboard blog.
Developing a resume for refugee clients can be a daunting and time consuming task. Here are some tips for streamlining the process.
Start from the beginning. Explain to your client what a resume is and how to use it in their job search. Show visual examples of resumes and describe all the information that they will need to include.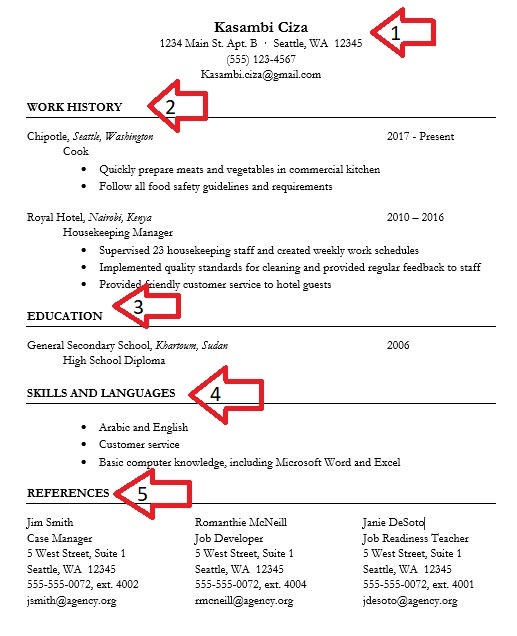 Review what personal information is essential to ensure that prospective employers will be able to contact and stay in touch with the candidate.
This section can also be titled Professional Experience. Providing accurate information and keywords is extremely helpful to employers. O'NET may be useful to gather descriptions of your client's specific career or jobs.
Include past education, as well as education and training that your client is currently undertaking. It is important to emphasize training and education that is relevant to the desired position. Including English Language classes for non-English speakers shows potential employers that the applicant is committed to learning.
Listing skills that are crucial to particular industries may help a client get the job. Use Cultural Orientation Resource Center (CORE) lessons on identifying skills
Professional references are not always required on a resume, but they may provide a way for an employer to reach out to your agency to address concerns and give you the opportunity to advocate on your client's behalf.
Once completed, ensure that the client understands the resume's description of their experience. Additionally, the client needs to know how to tailor resume revisions to job openings.
Practice interviewing with the completed resume, as employers will likely use the resume as a basis for their interview.
Finally, work with your clients so that they can understand how to identify accomplishments and responsibilities and update their resumes as they move from their first job and beyond.
For more information on resumes, see CareerOneStop's online Resume Guide to help your client's build a successful resume.